Our colours and design are inspired by the sinful Paris of the early 1900's. You can expect luxury, but above all warmth, personality and passion.
Our hand-sketched rooms have what it takes to meet your desires and fulfil your wishes. These are rooms to fall in love with, if only for one unforgettable night.

We also dare to promise that our imaginative restaurant Atelier and the voluptuous Bar Amuse will quench other types of hunger and thirst.
There is a world outside Hotel Pigalle, but there is nothing in it that you need.
Come in.
N.B. Hotel Pigalle is a cash free hotel.


OUR ROOMS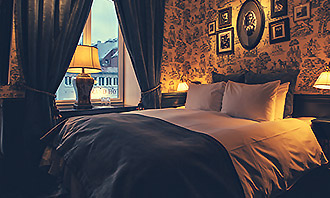 Book one of our Petite rooms and expect countless of your dreams to come true.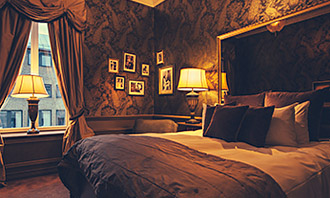 Our midsize rooms – Classique – accommodate desire, fervour and even prudent hesitation.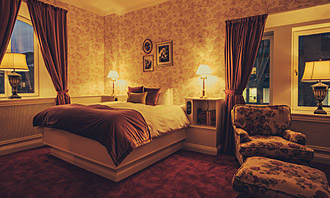 Our biggest rooms, Royale, promise something extra – and they keep their promises. Opening hours breakfast:
Mon-Fri 6.30-10.00
Sat-Sun 7.30-10.30

Opening hours Lunch:
Mon-Thurs 11.30-13.00
Fredag 11.30-14.00

Opening hours Dinner:
Sun-Thurs 18.00-22.00
Fre-Lör 18.00-22.30

Opening hours Brunch:
Saturday 12.00-14.30

Opening hours Bar:
Monday – Saturday from kl 16.00
Sunday from kl 18.00
Restaurant Atelier is a cash free restaurant
Our concept is to avoid getting stuck with a narrow concept. Instead, we have a constantly changing menu with about ten entremets and focus on the ingredients. The flavours follow the seasons and the moods of our chefs. And, if we get our hands on something extra, we just might create a dish that is served only once.
We want to throw you of your feet, tease you, create desire and have you longing for more and more until you are fully satisfied.
We are curious, imaginative, skilful, full of finesse and our passion for food and drinks is insatiable.
That is why our food is fantastic and the wines perfect. The service is as attentive as it is personal and relaxed. The setting is luxurious and decadent.
Please, take your seat and get ready to be in raptures.
Welcome.

Bar Amuse is the place you just slip into, but never want to leave.
It is the perfect setting for an intimate rendezvous, a quiet cup of coffee or long, voluptuous nights filled with laughter and glittering eyes.
Our plates are filled with delicious cold cuts, sausages, cheese and patisseries. The seasons control what we serve, which guarantees that you always taste only the finest flavours. And to really satisfy your cravings in the best way possible, carefully selected beverages accompany all delicacies.
After Work Fridays at 17.00
Kick off the weekend with an After Work at Pigalle!
In Bar Amuse we always have the best delicatessen and spirits.
There is also Live Cooking in the bar and music extraordinaire!